Oftentimes, individuals and organizations alike need some quick fundraising ideas to get the ball rolling on a longer-term campaign, get through a mid-campaign hump, or for an emergency situation. The ideas also need to be engaging enough to get people involved, and quickly. That's why we've compiled a list of 44 quick fundraising ideas that are sure to rally people to raise money for your nonprofit and have fun while doing it.
Whether you're looking for fundraising event ideas, virtual event options, creative fundraising ideas for kids, or easy ways to engage your peer-to-peer fundraisers, this list has you covered. We've separated the ideas into themed sections so you can easily find what you're looking for. Use the fundraiser idea table of contents below to find a slew of ideas to inspire for your next fundraising event. 
Fundraising Event Ideas
The right fundraising event idea can generate major revenue for your cause. Whether you need to plan a quick event or brainstorm a creative way to virtually engage your supporters, here are 25 event fundraising ideas to help you get started.
Food Fundraising Ideas
Bake Sale Fundraising Event
This is a classic food fundraising idea for a reason! Get ready for some sweet smells with this idea. Participants compete to bake the most delectable treat out there, and guests can donate for the chance to taste test and vote for their favorites. You can narrow down eligible entries by pastry type, whether that's pies, cakes, cookies, brownies, or some other sweet concoction. Whatever you serve, make sure you follow any local food serving laws.
Afternoon Tea Time 
Put on a fundraising event where people can relax, drink tea, and support your worthy cause. Attendees can dress up for your classy high-tea fundraiser and pay an entry fee. Prepare elegant cutlery, fine china, and snacks. You can partner with a local tea or coffee shop for tea leaves and pastries. 
Cooking Competition 
Channel your inner master chef in a nod to reality TV cooking shows. The best food fundraising ideas engage your fundraisers and attendees alike. Round up supporters and foodies around a friendly culinary competition. Contestants create their best dishes with a specific ingredient or other criteria, and people pay to taste each dish and cast their votes. By giving your supporters the option to sign up as a chef or judge you're appealing to a large audience and providing a fun and unique experience that will help your donor associate your organization with a good time.
To take this event virtual, simply pivot the event from a cooking competition to a cooking class. Partner with a local chef and charge admission to attend the livestream. You can also include an incentive for larger donations by offering time with the chef after the class for anyone who reaches the tier two fundraising level.

Free Download: Build Your Annual Fundraising Calendar [WORKSHEET]

Recipe Books
As a tribute to the days before recipe phone apps, you can crowdsource recipes from different supporters, and even across your organization, to compile a charity cookbook. Ask supporters to include a dedication, doodle, or note with each recipe submission so that the book feels unique and personal to your organization. Reach out to local graphic designers or students to help design your cookbook.
Family-Friendly Fundraiser Ideas for Kids
Board Game Night
Step away from the screens and kick it old school to raise money for your favorite charity of cause. Put together a board game fundraising event that's friendly for all ages, complete with an assortment of options. Charge for entry and host mini-tournaments among different sets of players and advertise prizes for the winners.
This fundraising event idea is perfect for families and children. Ask your community and local businesses to donate supplies, get the word out, and charge per scoop day-of. Consider adding an ice cream eating contest into the mix. This type of event would be ideal on a weekend or in the summer when families have more free time on their hands.
This can easily become a virtual event as well by sending a gift card to each donor who reaches the designated fundraising level. Encourage them to purchase their own treat and attend a livestream ice cream social to connect with fellow supporters.
Movie Night
Host a film screening or movie marathon at a local park or auditorium and sell tickets and snacks for suggested donations. Another twist to this familiar fundraising event is to ask friends and family to each host their own mini-film screenings on behalf of your cause and invite their networks. They can then speak about your mission afterward and take note of those who want to learn more.
Scavenger Hunt
Organize a scavenger hunt and send participants running all around town. You can stick to the classic scavenger hunt where people have to find and collect items or you could go digital and have individuals or teams simply take a picture of an item or location. Each person or team will need a camera, pen and paper (to write their names to prove they aren't using a fake photo), and a garbage bag.
Charge a registration fee in advance and offer a headstart or hints in exchange for donations on the day of the hunt. Assign bonus points for the individual or team who collects the most trash and recyclables as they explore your city.
Talent Show
Crowdsource entertainment with this fun fundraising idea and put on a talent show. This event can be as high-end or as lowkey as you'd like, so decide on your vibe right off the bat. Are you simply looking to provide supporters with a fun night while also expanding your reach? Get a permit and hold the talent show in a local park. If your organization wants to establish a cornerstone fundraising event then kick it up a notch. Hold auditions for the show, request that performers fundraise, and ask a local theater to host.
In addition to an entry fee, attendees can donate to cast votes. Ask local vendors to provide prizes and create different award categories for supporters to vote on.
To shift this to a virtual event, ask participants to pre-record and submit their acts online so your team can then assemble the performances for a live broadcast on a later date. Ask attendees to purchase a ticket or fundraise to gain access to the livestream showing, and consider incentivizing the ticket holders with the option to cast votes during the livestream to crown a winner.

Download Now: The Ultimate Campaign Planning Kit

Tie-Dye Party
Tie-dye has come back in style and is a great activity for the whole family. T-shirts that promote your cause are a classic fundraising incentive, but you can take this nonprofit fundraising idea a step further and host a "create your own T-shirt" get-together. Charge an entrance fee, offer to tie-dye personal items for a donation, or enlist local artists to create custom pieces to sell.
Keep costs low by offering white T-shirts and tie-dye materials so that participants can create their own masterpiece on a budget. Since making T-shirts isn't a time-consuming activity prepare some other family-friendly games, crafts, or activities for the event.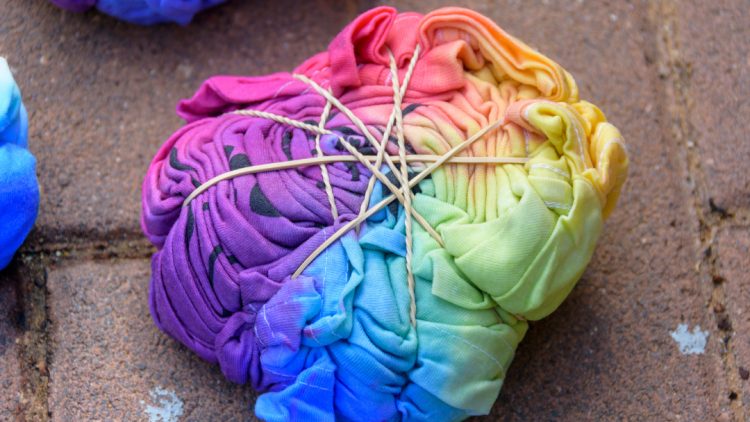 Easy Fundraising Ideas
Yard Sale Fundraiser
Collect gently worn clothes, home goods, or collectibles and host a yard sale. If you have valuable items like first-edition books or signed collector's items, you can hold an auction for the top-tier items at the end of the day. In addition to opening up donations to your staff, supporters, and collective networks reach out to local celebrities or philanthropists for those high-ticket items.
To generate buzz around the event, take pictures of the items and post them on social media. You never know who could see a social post and you might just find your next corporate sponsor while drumming up excitement around the event.
Donate a Drink For A Cause
To demonstrate how the smallest donation can make a difference, ask fundraisers to give up a daily beverage and donate the money they would have spent to a worthwhile cause instead. Provide supporters with data showcasing the impact of $5, $10, $20 donations. Then encourage them to share their activity on social media and ask their networks to take action too.
Intensify the appeal by asking supporters to participate for a certain number of days or encouraging them to meet a personal fundraising goal.
Creative Fundraising Ideas for Nonprofits
Art Show
Local artists and supporters can pay a nominal registration fee to have their pieces showcased, and attendees can pay a registration fee to browse the collection. Afterward, artists can choose to auction off their pieces for charity.
Video Game Fundraising Event
Turn video-gaming into the most charitably productive activity in your community. Take a note from Desert Bus for Hope, who raised over half a million dollars during a previous gaming fundraiser. Host a gaming night where people can sign up and create a fundraising page, play games (or one selected game) for an extended amount of time, and ask their friends and family for donations. Different individual or team contests (and prizes) can drum up excitement and donations throughout the evening.
Gamers can raise money by participating in a video gaming marathon. Livestream the event to reach a larger audience, and viewers can donate in order to submit challenges or request other forms of entertainment. 

Download: Empower Fundraisers to Throw Third-Party Events

Fashion Show 
To launch this idea to raise money for your mission, partner with a local venue and sell event tickets. Ask participants to create their own sartorial masterpieces, or reach out to local clothing shops and boutiques for donated outfits. You can also ask makeup artists to donate their services and recruit community members to volunteer as models.
Film Fundraising
Since everyone has a camera in their pocket and a platform to reach the masses, any moment can be captured on film and shared with the world. Host an amateur film festival and have participants enter their own productions. You can even turn it into a contest, where attendees can give $5 in order to cast votes for their favorite films. Leading up to the contest, create an email series with tips to show supporters how to create an impactful video.
Read Next: Video Conferencing Tips
Head-Shaving Fundraisers
Participants pledge to shave their heads (or long-lasting beards) to raise money. 
Creatively Constructed Art Auction
This quick fundraising idea isn't just for eco-artists, but for all creative types. Enlist local artists to create some avant-garde masterpieces out of recyclables or other waste products, and auction off the pieces. You can also collect recyclable materials and hold a contest to see which attendee can make the most impressive creation.
Source: Tom Deininger
Endurance Fundraising Events  
5K Run or Bike Race
A classic fundraising event idea, the 5K is a year-round favorite that can raise big bucks for your cause. Rather than rely solely on entry fees, implement peer-to-peer fundraising so participants can start raising money upon registration. Throw out a suggested fundraising goal, prepare incentives, and send participants tips on how to reach out to their networks.
For organizations looking to do this virtually, charge registration in the form of a donation and then encourage the athlete to complete the distance on their own. Hope for Haiti hosted their second annual virtual Hike for Haiti Challenge in 2020, which challenged students and families to climb 200 flights of stairs, the equivalent of the journey taken by students and families in Marre à Coiffe to access clean water and other vital resources. Supporters from across the world posted photos and videos of themselves on social media climbing stairs at the gym, at a local stadium, and even in their apartment complexes, raising over $100,000 in the process.
Gather your team and check out these 18 free resources to organize a 5K to plan your most successful run/walk yet.
Costumed Race Fundraiser
Host a costumed race where people dress up in alignment with a pop culture phenomenon. Whether it's zombies, Star Wars, Harry Potter, Hunger Games, or another theme. With all the different options to choose from, this funny fundraising twist on the classic 5K never gets old.
Rollerblade or Rollerskate Race
Or, how about switching up the usual 5K run/walk with a roller-skating marathon? In addition to fundraising for entry, participants can raise money for branded protective gear like helmets and kneepads.

Free Download: Anatomy of a Successful Peer-to-Peer Campaign

Indoor Cycling
Popularly known as "spinning," this indoor activity asks riders to sweat for a cause. Partner with a local gym or spin studio and ask your contacts to participate for a suggested donation. Ask a local instructor to donate their time and lead the class through an energetic and fulfillling workout. To jazz it up, throw in mood lighting, a killer playlist, and after-spin refreshments for an awesome workout and engaging fundraising event.
Treadmill Relay Race
Partner with a local gym to get this fundraising event idea up and running (pun intended). Ask supporters and community members to sign up for a time slot (minimum of 15 minutes) and donate at least $1 per minute. You can even make this into a team event by assigning a different treadmill to each team.
For anyone with access to a treadmill at home, this event can also be completed virtually. Ask fundraisers to rally support from their networks to pledge money for each mile they log or each time-based benchmark they hit (e.g., pledge $50 dollars for every five miles).
Exercise Lessons
Whether you focus on yoga, tennis, or self-defense, host an afternoon where participants can donate to receive a lesson from a local expert. To find a qualified instructor, reach out to local gyms or workout studios to see who might be interested in donating their skills for a good cause.
Dance Marathon Peer-to-Peer Fundraiser
Host a dance-a-thon and challenge participants to dance for as long as they can. This fun peer-to-peer event keeps participants and donors on their toes—literally. Have dancers create peer-to-peer campaigns and set a minimum goal for participation.
Fundraisers will tap into their networks to raise money before the event, but donations will flow until the last dancer standing receives a prize! Supporters can also request songs for $5—Spice Girls anyone?
This fundraising event idea has raised more than $1.2 million for Northwestern University Dance Marathon (NUDM). Ask people to fundraise to participate in a 24-hour (or 30, if you're daring like NUDM) dance marathon.  You can also ask people to sign up as teams foster some friendly competition.
Relay Race
Put a fresh spin the traditional 5K or 10K and turn it into a team relay race. Runners can solicit their networks for donations. Perhaps each leg of the race demands a particular costume theme or humorous obstacle like carrying an egg on a spoon or a three-legged race.
Sports Fundraisers
What do all sports events have in common? Competition, crowds, cheering, and a close-knit community of people who are all rallying around one goal: the home team bringing home a "W". What could be a better inspiration for your next fundraising event? This easy fundraising idea unites locals around a sports tournament to raise money, whether it's baseball, flag football, or bowling.
If you really want to level-up the fun factor you can even establish a theme or costume rule, requiring each team to come up with its own unique getup. "Punny" costumes or themes that involve a play on words are always a crowd favorite, so encourage your teams to dress up. Two ideas to get you started: the Chicago "Teddy Bears" and the Dallas Cowboys who don cowboy hats instead of traditional football uniforms.

Download: World-Changing Work, The Modern Nonprofit Professional's Experience

Tap into a global interest and host your own charitable flag football tournament. Charge an entry fee per team, or ask participants to fundraise for entry. For even more fundraiser event ideas inspired by football, check out the link below. 
Basketball Tournament
Teams pay an entry fee or fundraise to participate. You can also weave in other basketball games like dunk contests, free-throw contests, or dribble challenges. 
Surf Tournament
If you're by the ocean, a surf competition can be the perfect fundraising event idea to draw beach-loving crowds. Ask participants to create peer-to-peer campaigns to raise a minimum to participate. Include impact blocks on your campaign page to help tie the fundraising goal to its impact; for example, have participants raise $1,500 to cover the cost of sending one cancer survivor to camp.
Not near the coast? Lakes are perfect for athletic events too. Plan a kayak race or a relay swim to take advantage of the great outdoors.
Bowling Tournament
Each team fundraises a minimum amount for entry. You could also recruit partners to sponsor lanes where they can put up their logos. Check the link below to read how one Big Brothers Big Sisters affiliate leveraged Classy to raise 436 percent more for their annual bowling tournament year-over-year.
Dodgeball Tournament
Ask each team to fundraise a certain amount to participate and to come geared up for some serious dodging. 
Local Olympics
Put together an Olympics-style sporting event for locals and ask each participant to fundraise a minimum amount to help you reach a collective goal.

Read Next: Anatomy of a Successful Crowdfunding Campaign

Fundraising Events for Adults
Local Concert
This idea for a fundraiser is for all the live music junkies out there. Partner with a local venue and recruit local artists into your show. They can even start fundraising pages leading up to the event so that fans, friends, and family can donate even if they can't attend.
You can also make this an online event by asking bands to perform for your virtual audience in a closed venue. Sell tickets for the event, collect donations throughout the evening, and livestream for all donors. 
Learn How Farm Aid Hosted Their Virtual Music Festival
Battle of the Bands
Gather local bands to put on a charity concert. Performers can fundraise for registration and attendees can purchase tickets. Invite influencers or local celebrities to judge to help spread the word and get people excited about your show.
To bring the battle online, simply ask each group to upload a pre-recorded video of their act to your event page. Participants can still fundraise to earn their registration, and then your supporters can vote on the best performance. Offer a prize for the winning band to incentivize participation, but also consider offering a prize to the band who raises the most money.
Casino Night to Raise Money for a Cause
Bring Vegas to your hometown and host a casino night complete with games like roulette, blackjack, and poker. Invite guests to dress up and donate to participate. They can also donate certain amounts for specific numbers of casino chips, and the player with the most chips at the end of the night can receive a prize.

Free Download: The Ticketed Event Cheat Sheet

Silent Auction
Plan a silent auction as a solo event, or add it to an existing fundraising initiative as a supplementary revenue driver. While you should reach out to your own network to start assembling items, consider appointing a committee of volunteers that can also solicit their contacts for gifts to auction off. Get creative with the prizes you collect—note that certain prizes, such as travel-related items and outings, tend to be popular.
By shifting this event to virtual, it actually becomes more accessible to your audience. Promote the auction items in an email blast and on social media to engage attendees, and then take advantage of the opportunity to ask for donations throughout the event as well. Lakeview Pantry celebrated their 50th anniversary in 2020 by offering its supporters the chance to bid on a number of prizes at their online silent auction. All bidding was submitted online prior to the livestream, and remained open until one hour after the virtual program ended. This allowed all supporters to participate, even if they couldn't attend the live virtual event.

Read Next: The Ultimate Guide to Silent Auction Items

Craft Fair to Raise Funds 
If Pinterest has taught us anything, it's that the do-it-yourself aesthetic isn't going anywhere. Gather talented friends and family members to help create and sell your crafts, whether they are bracelets, buttons, keychains, or housewares.
Pub Crawl
Don't discount the potential of a fundraising event that is centered around bar hopping. In fact, this is the fun fundraising idea that started Classy! A pub (or restaurant) crawl can be a great way to put a philanthropic twist on a Saturday night. 
Plan your route with local breweries who may offer potential discounts or donate a portion of their profits, charge for entry, and invite registrants to secure donations for each stop they make. You can also charge a fee for people to participate in the crawl, ask people to dress up to fit a theme, or have participants earn branded swag for each stop they make on the crawl.
Trivia Night
Trivia nights are a weekly occurrence at bars for a few simple reasons—they're easy to organize, affordable to host, and can be customized to appeal to any audience. Ask a local restaurant or bar to host your fundraising event and ask that participants form teams in advance and raise a minimum amount as their registration fee. Then charge an entrance fee for anyone not participating in the competition. Group people into different teams to see who can gain bragging rights and raise the most money.
If you can guarantee a crowd then the venue may agree to share a portion of their food and drink proceeds with your nonprofit. Nothing encourages business like being a socially responsible company.
And if hosting your trivia night in person isn't feasible, you could offer a livestream trivia night instead. Ask that each team raise a minimum amount to participate, then promote a prize for the winner or offer a chance for the winning team to host next time around.
Fundraiser Dinner Party
This fundraising event idea can turn into a themed party for any occasion. Whether you host a potluck harvest dinner or a cocktail hour, sell tickets and invite guests over to a rented venue, a volunteered home, or your office for a delicious meal. Prepare your elevator pitch so that guests will understand how meaningful this dinner, and their contributions, truly are.
House Party
Invite supporters and their friends and family to your charitable house party. You can schedule the event around a cause awareness day, holiday, or pop culture event. Incentivize donations by offering prizes for different levels of sponsorship, like discounted tickets to your next event or other unique party favors.
Fundraisers That Require an Appetite
Eating Contests
Open up your fundraiser to all types of eating contests. Whether you serve pies, doughnuts, or hot dogs, contestants can pay an entry fee to compete. Solicit local shops or bakeries to donate the food that will be devoured at your tasty fundraiser.
BBQ Cook-Off 
Invite your local chefs to cook up their best plate of barbecue for bragging rights, and ask guests to donate, taste, and cast their votes for their top choice.
Breakfast in Bed
Ask local businesses to donate breakfast staples like muffins, fruit, bagels, and coffee. Next, have supporters and their networks place orders and then enlist volunteers to deliver the goods. Create a menu that demonstrates impact so your supporters know what their donation provides. For example, a $20 donation gets you a bagel and coffee delivered and pays for a student's school lunch for a month.
Customize the event to your mission by including a thank you card with each order, bringing a rescue pet along for delivery, or even delivering meals to your beneficiaries instead of supporters.
For more ideas, tips, and tactics to elevate your virtual fundraising events, check out these blog posts to take your online strategy to the next level:
Then check out a few of our other favorite fundraising event idea roundups below:
Have you had success with any of these fundraiser event ideas? Let us know in the comments.
---


Originally Published by www.classy.org